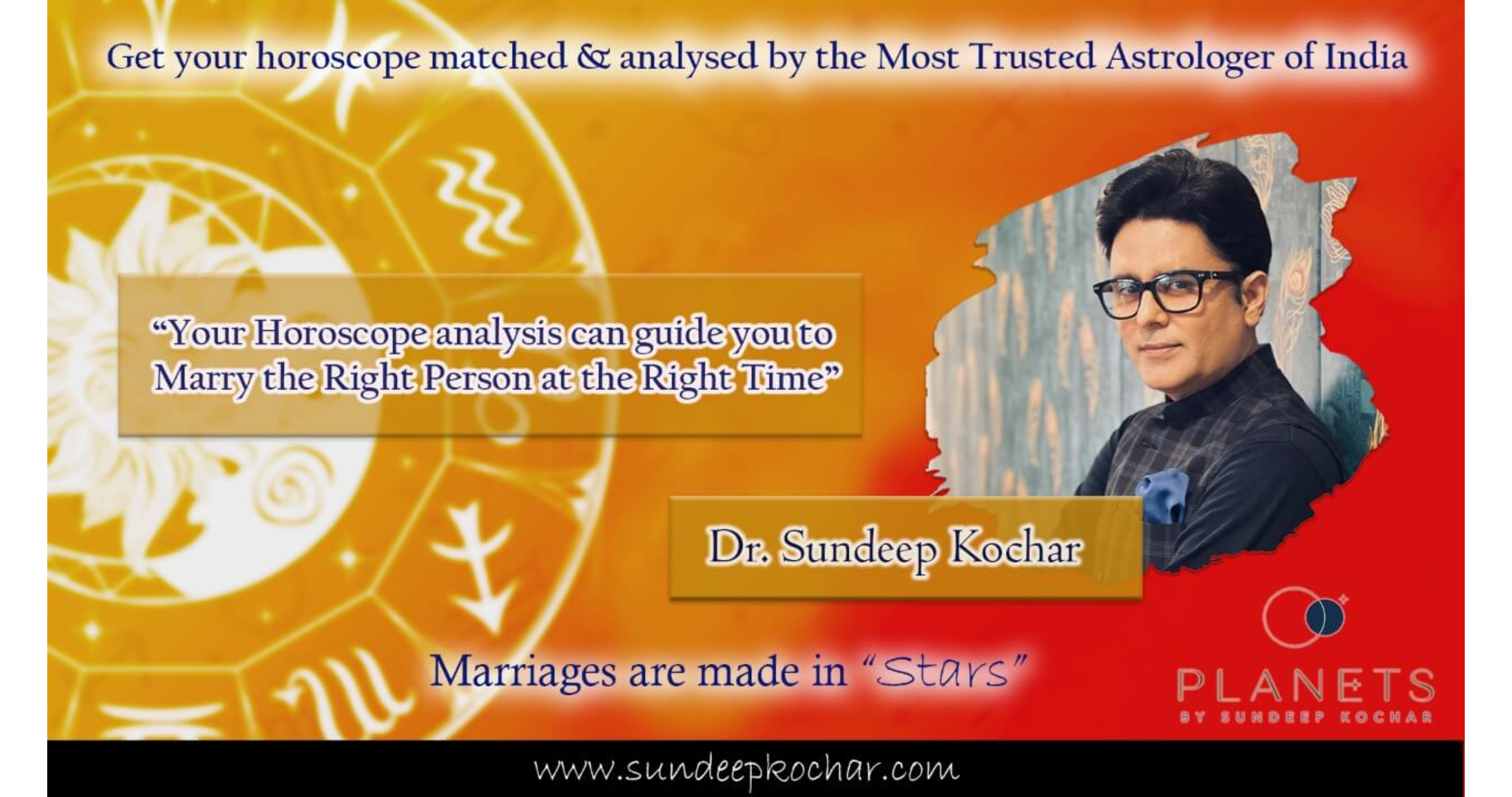 What is Kundali matchmaking?
Ashtakoot Guna Milan (matchmaking kundali online) helps in giving a complete understanding of the future spouse beforehand; which helps to know & handle each other in a better way to lead a beautiful & harmonious life together forever.
When we talk about matchmaking horoscope for marriage, we don't only mean matching both horoscopes. But, when it comes to foreseeing the future of a successful marriage, we also incorporate palmistry & face reading to ensure a lifelong bond of marital bliss. Along with the detailed analysis of both horoscopes, one can describe nature, character, care, love, and emotional imbalances and married lives of individuals.
You might have seen this term being thrown around here and there amongst many elders, especially when it comes to matchmaking astrology. But what really is Kundali match making? When we talk about matchmaking or Ashtakoot Guna Milan, we mainly mean the comparison of two horoscopes and natal charts to measure compatibility and wellness between two people.
Kundali Matching Horoscope for Marriage
In Vedic Astrology, Kundali matching horoscope aids in checking the horoscopes matchmaking of two people, leading to a successful marriage. When it comes to marriage, we like to be secure – and the positive matching horoscope for marriage aids in exactly that.
The importance, you ask? A matching Kundali service, be it through matchmaking by numerology, matchmaking by rashi, or matchmaking by nakshatra, helps two people understand their level of compatibility.
The importance of 'Kundali Gun Milan'
Gun Milan, or Kundali Milan is the astrological way to check the strength and compatibility between two people before marriage. Gun Milan can be done in two main ways. One, by name, and the other, by the date of birth and birth charts of both boy and girl.
Many might ask, what exactly is the importance of 'Gun Milan' or Kundali matchmaking for marriage. The first and foremost, is measuring the compatibility between the bride and groom. But that's not where it stops. When building a marriage, more than just the overall compatibility is to be considered. So, in light of gathering all the aspects of a successful marriage, the Gun Milan matchmaking is done.
Apart from measuring the compatibility between two people, Gun Milan also shows the effects on financial stability and career. When two people unite in a sacred marriage, the movement of their planets have an effect on their partner's life too. Gun Milan helps in understanding how well each other's financial stability and career will work within the couple.
The third aspect looked into through the Kundali matching is the compatibility to bear children. For many, a family is considered complete where there is a child present. So, the Kundalis of both the people need to be matched to check if bearing an offspring would be possible, and if yes, how would the health and future of the child be.
Mental and physical compatibility is also one of the important points to be looked at, for which the Gun Milan reading helps. The process is used to match both the partners' interests, mindsets, goals, behaviour, attitude, and temper. The mental compatibility is one of the most important things to be looked at in the marriage, especially if tough times are on the way. Physical attraction is also tested, making sure there is a good amount of desirability between the boy and girl.
Next, the Gun Milan takes a look at the 'Dosh' between the two Kundalis, if any – and Astrologers usually take the couple through different Pujas and solutions to keep the situation in control, if not get rid of it all. Sometimes, even when Kundalis match, a Puja is recommended to bring more happiness and success to the couple.
Before taking a step towards marriage, a lot of astrologers advise couples to match their Kundalis, mainly to see and assure the couple about their current state and the future. This is also done so if there is any 'Dosh' amongst the couple, it can be healed through different Pujas.
How Does The Kundali Matching Process Work?
The qualities matched between two people through their horoscopes are known as 'Gun Milan'. When we get into details, on the chart, the total number of aspects and qualities matched are 36. Out of those 36, if 18 of those aspects are matched in one way or another, it's a good sign from astrologers to go ahead with marriage, or matching of any kind.
Kundali matching and 'Dosh' – Mangal Dosh and Nadi Dosh
The more properties matched in the Kundali match making process, the better. However, if there is a 'Dosh' in one person's Kundali, or astrologers see a 'Dosh' while matching Kundalis, then further steps need to be taken to take the marriage or partnership on the right path. Here, 'Dosh' means a sort of defect in the compatibility between two people through their horoscopes. According to astrological belief, if a marriage is completed without resolving the 'Dosh', it might not end successfully.
When it comes to 'Dosh', the main factor to look at is one Kundali shows a Manglik flaw, it is better for that person to marry someone carrying the same 'Dosh'.
Another common 'Dosh' amongst matchmaking between two people is Nadi Dosh. In simple words, Nadi Dosh is basically when two people's Nadi is the same. This can bring about health issues for partners. But, if the Nadi Dosha Puja is performed, this can be omitted from the Kundali matchmaking of two people.
What happens if two people get a low Kundali score?
When two people's horoscopes are matched and they score less than 18, it means that they are not compatible enough to go into a successful partnership. Astrologers advice others to refrain from these partnerships. However, there are many Pujas and Mantras that in turn can help resolve the score. But in the end, if a Kundali matchmaking score is low, astrologers recommend a no-go for a partnership.
With whom can I match my Kundali?
For many people, when they hear the words 'Kundali matching', their mind goes straight to marriage. While majority of Kundali matchmaking is done for a successful marriage, Kundalis can also be matched for different reasons like business partnership, love, or any other partnership ready to take the next step.
Moreover it's not about only Matching both the horoscopes, but also incorporating palmistry & face reading to ensure a life long bond of marital bliss…
Bank Details:
Planets by Sundeep Kochar (OPC) Pvt Ltd
ICICI Bank
Current Account no – 777705303066

IFSC CODE: ICIC0001012
Four Bungalows Branch, Andheri West, Mumbai 400053

For appointment WhatsApp or Call on
INR 15000
for (60 Minutes)